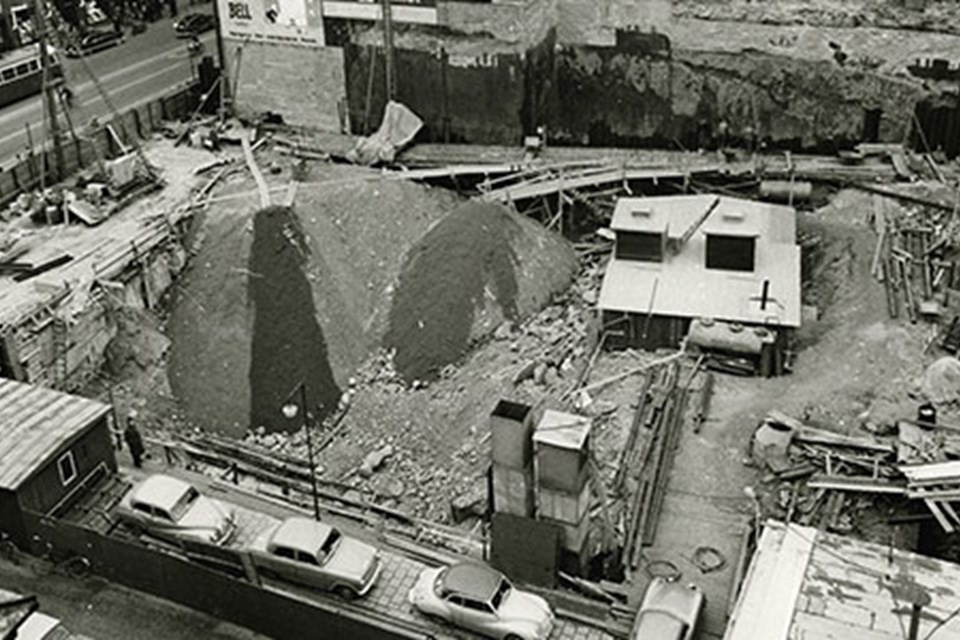 Underground system
Nothing characterized post-war Stockholm more than the construction of the underground system. Not only was it fundamental to the expansion of the city, it was also used as a pretext for demolishing large swathes of the city centre. A combination of ground conditions and 1940s construction technology meant that it was not always possible to bore tunnels. Instead construction workers had to first demolish buildings and then excavate down to where the tracks and the stations were to be constructed. This was the case at the junction of Kungsgatan and Sveavägen, where Hufvudstaden had properties on three of the corners.
City project – compulsory purchase – demolition
Construction of the underground was gradually transformed into what was in effect mass clearance of Stockholm city centre and as time passed the pace and ruthlessness of this process gathered momentum. Entire blocks were obliterated, slums and mansions alike, and the city employed strict means of enforcement. Around 20 of Hufvudstaden's properties were on the 'death list'. The majority on Regeringsgatan and Västra Trädgårdsgatan were demolished although many around Biblioteksgatan were saved at the last minute when plans to construct a road through the area were shelved.
Järnplåten
The Järnplåten area at the junction of Kungsgatan and Sveavägen became the centre of a conflict during the 1950s between the authorities and privately owned property companies. The City of Stockholm stipulated that everything that was built following the city clearance programme must be erected on municipal leaseholds. However, after battling for many years Hufvudstaden succeeded in acquiring the final piece that was missing at Järnplåten. The trump card in the negotiations was that the underground required a street exit at that particular point. After further years of discussions with the minister, Gunnar Sträng, Hufvudstaden was finally granted consent to build on the site. The NK-owned K Department Store was officially opened in 1959.
Leisure sector
At a time during the 1960s when the Stockholm property market was strictly regulated and uncertain, Hufvudstaden invested in the growing leisure boom. At Bosjökloster in central Skåne, 800 homes were planned in a beautiful location beside Lake Ringsjön. Unfortunately, sales proved sluggish and fewer than 100 were completed.
Norrmalmstorg 14
After 25 years of waiting, Hufvudstaden's head office on the corner of Norrmalmstorg and Biblioteksgatan was completed in 1964. First it was the war that intervened and then building restrictions. When construction finally got underway the excavators came across an underground river that flooded the entire foundations. Divers were brought in along with archaeologists, who found remains on this former seabed of vessels that sank during the 17th century.